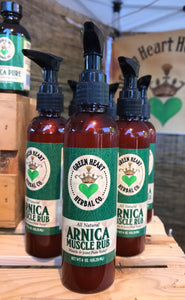 This product is handcrafted in the landscapes surrounding Mt. Hood. We wild craft your herbs and then make our healing products in Hood River, OR. Our herbs are solar infused for 4 to 6 weeks in Apricot Kernel Oil. This product in 100% natural for your better well-being and health.
So enjoy the soothing healing power of the Arnica Muscle Rub. Our Muscle rub is unique. It not only has Arnica for MUSCLE TENSION,STIFFNESS, and PAIN RELIEF we partnered it with Willow bark. Willow bark works like a natural aspirin to STOP MUSCLE PAIN! We added Clove and Ginger to warm up the Muscle, get the BLOOD FLOWING to in turn INCREASE overall RANGE OF MOTION. For any INFLAMMATION or SWELLING you might have we combined Peppermint, Yarrow, and St Johns Wart. All Three of these herbs have anti-inflammatory properties. This Product is a 4oz Lotion
Ingredients: Arnica, St John's Wart, Willow Bark, Yarrow, Apricot oil, Beeswax, Ginger, Vitamin E, Peppermint & Clove Essential Oil, Rosemary Extract. This product is also available in a 2oz salve.
Quality: MADE TO ORDER
If you want to purchase a larger order contact me at ghherbalco@gmail.com to make a special list to save on shipping. Like GREEN HEART TRADITIONS on facebook and follow @green.heart.heral.co to show your support, to see updates of new products, and enter in giveaways!

Disclaimer: Statements regarding dietary supplements have not been evaluated by the FDA and are not intended to diagnose, treat, cure, or prevent any disease or health condition.